Greater Bakersfield among 16 local Chambers to receive inaugural HR Champion Award
Bakersfield, Calif. (Monday, May 22, 2023) – The Greater Bakersfield Chamber was honored as a recipient of the inaugural California Chamber of Commerce HR Champion Award. The award was presented to local chamber representatives last week on May 17 during the CalChamber Capitol Summit in Sacramento. 
"We are incredibly proud to receive the HR Champion Award from the CalChamber," said Hillary Haenes, Interim President and CEO of the Greater Bakersfield Chamber. "This recognition affirms our commitment to helping businesses in our region navigate California's complex labor law landscape. We understand the challenges faced by job creators of all sizes, so we strive to equip our members with the knowledge and tools they need to succeed."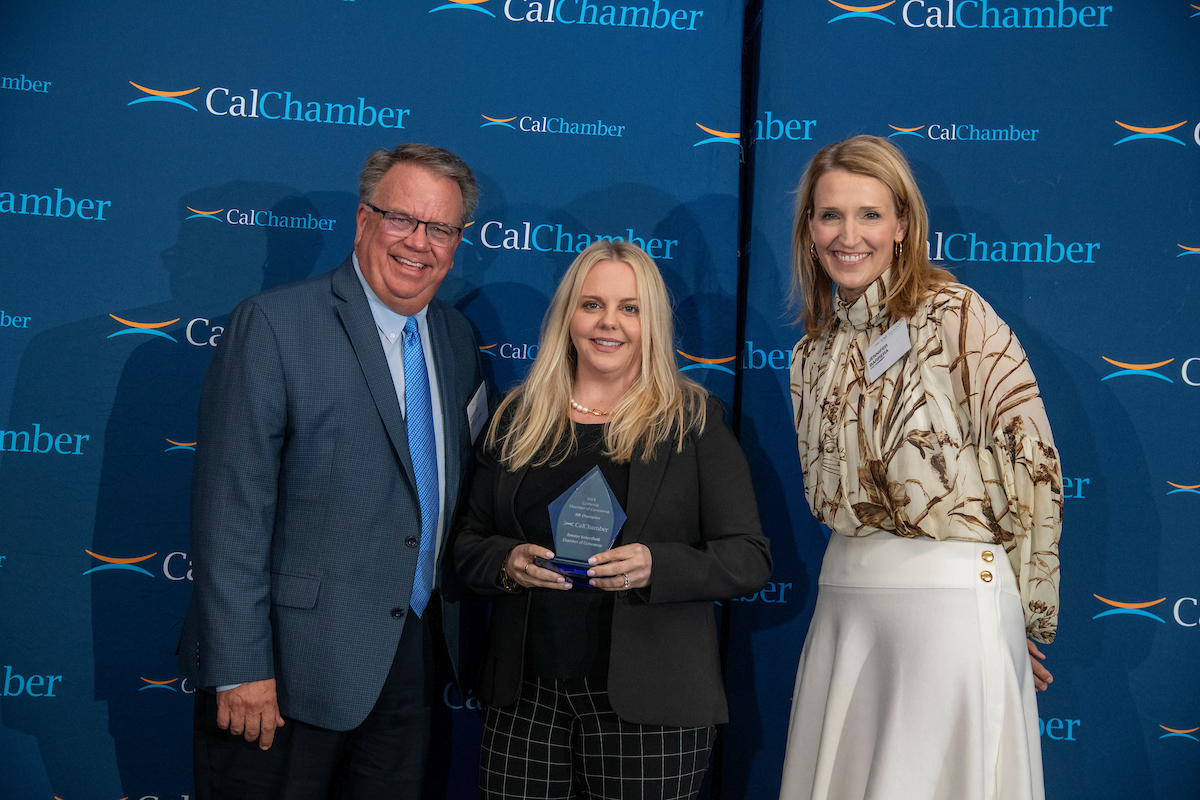 This HR Champion Award was created to recognize chambers across California that excel in helping their members comply with labor and employment laws in the Golden State. This is the inaugural year the award has been presented.
"California's labor law requirements can be a puzzle for businesses of all sizes, especially smaller operations," said Nick Ortiz, CalChamber's vice president of local chamber relations. "We are pleased to recognize these HR Champion chambers for keeping their members updated on state labor law by participating at a high level in our compliance product resale program." 
The Greater Bakersfield Chamber works to help its members access resources and information to comply with California employment laws through programs like the Labor Law & HR Forums sponsored by Young Wooldridge LLP & LeBeau-Thelen LLP, Labor Law Information Posters and other periodic updates. 
To learn more about membership in the Greater Bakersfield Chamber and how you can take advantage of the Chamber's labor law programs, call 661-327-4421 or email info@bakochamber.com.  
###
ABOUT THE GREATER BAKERSFIELD CHAMBER
The Greater Bakersfield Chamber is the region's leading business membership, networking and advocacy organization, representing the interests of more than 1,100 members and more than 70,000 local jobs. Focused on creating a thriving local economy and improving the quality of life for every resident of Greater Bakersfield; the organization promotes economic vitality, facilitates networking and business development opportunities, and advocates for public policies that support quality jobs and inclusive growth. The Chamber guides Bakersfield toward a better and brighter future. Founded in 1920, the Chamber is driven by the belief that our community thrives when business succeeds. 
CONTACT: Joel Paramo, joel@heysalty.com, call/text: 661-438-1034