Greater Bakersfield Chamber hosts the 2023 State of the City in Downtown Bakersfield
BAKERSFIELD, CALIF. (July 19, 2023) – The Greater Bakersfield Chamber and the City of Bakersfield today jointly hosted their annual State of the City luncheon to acknowledge the pressing issues Bakersfield faces and celebrate the progress made over the past year. This year's event, presented by Valley Strong Credit Union, took place at the Bakersfield Marriott at the Convention Center in downtown Bakersfield and brought together approximately 350 business and civic leaders.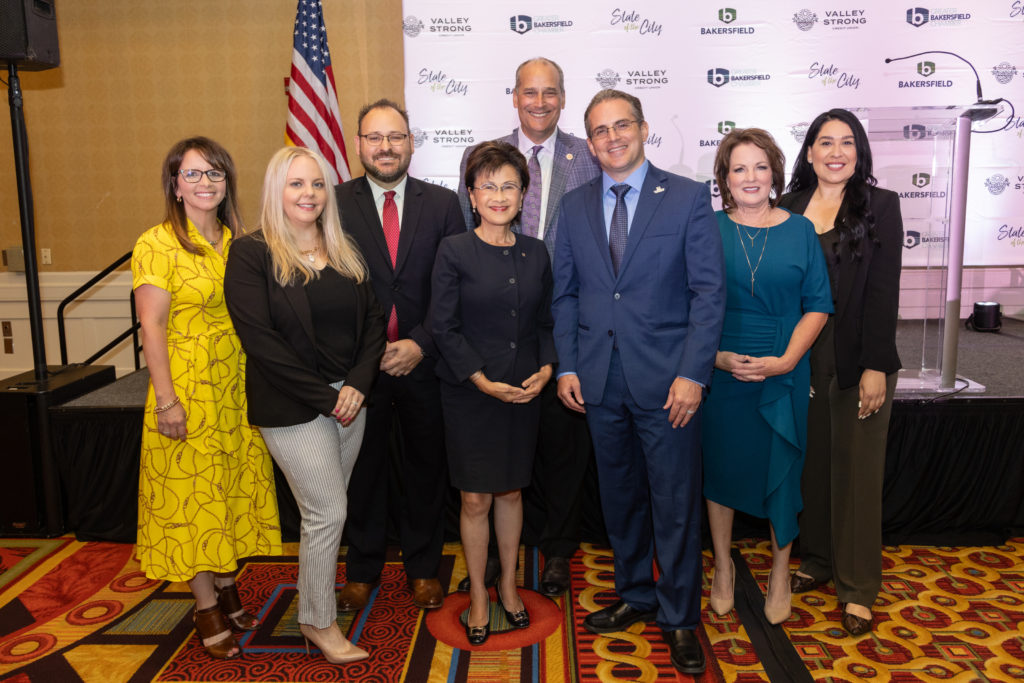 In individual speeches, Bakersfield Mayor Karen Goh and City Manager Christian Clegg sought to provide clear information and help attendees understand the realities of our growing city. Their presentations highlighted strides to address issues including public safety, homelessness and quality of life. They also presented plans for Bakersfield's growth and prosperity.
"At the Chamber, our business is a better Bakersfield, and that means fostering collaboration among our city's business, civic and public sector leaders," said Hillary Haenes, Interim President and CEO of the Greater Bakersfield Chamber. "This year's State of the City was an opportunity to get to the heart of the biggest concerns we hear from our members, provide a forum for dialogue and collaborate to tackle these challenges head-on and continue to make progress."
Through programs like State of the City, Government Review Council and Leadership Bakersfield, the Greater Bakersfield Chamber promotes community engagement and creates opportunities for residents to actively participate in developing solutions to challenges the city faces.
"Bakersfield's city government leaders cannot solve every issue we face, on their own," added Haenes. "Through collaboration with stakeholders from the business and civic sectors, we can pursue an agenda of shared prosperity and improved quality of life for all."
CONTACT: Joel Paramo, joel@heysalty.com, 661-636-6902